Company Information
– Chapter Two LLC
– Established in Oct. 2017
– Address: 2-1-6, Kaminarimon, Taito, Tokyo, Japan, 111-0034
– Phone: +81 (3) 6802-7552
– CEO: Hiroaki Ueda
Our Mission
The purpose of Chapter Two to connect people around the world to embrace our differences and understand each other better
○  Past & Present:
What constitutes the corner stone of a "peaceful, safe and indispensable life"
Despite its continuous wish for peace, Japan suffered from difficult wars in the past. Our predecessors went to the battlefield to protect their livelihood and the people they care about; their core motivation being "we want to protect our family and our pride as Japanese citizens".
Unfortunately, many people lost their lives, whereas many others suffered both physically and emotionally. Despite this adversity, the Japanese spirit within, inherited over thousands of years ago, did not falter.
Japan experienced remarkable economic growth after World War II. Many people devoted their entire lives working desperately to achieve this economic miracle.
The life we enjoy today was built by those people. Many people living in Japan now are materially satisfied, not having to worry about shelter nor nutrition; these things are taken for granted as if it were common sense.
We enjoy using new technologies and embracing concepts that are created one after another. However, this comfort was never a result of our own independent efforts. On the contrary, the comfort we enjoy today is due to the accumulative efforts and sacrifices of our ancestors.
We should not take our peace and freedom in Japan today for granted. In fact, we should always look at the rest of the world: there are people who are exposed to life or death situations on a daily basis from the day they are born; there are people who cannot comfortably share their views in public; and there are people who are being bought and sold as if they were goods.
Many of us refuse to acknowledge this situation, but this is the unfortunate truth we live in today.
Accordingly, we seek to be aware of what takes place outside of Japan. We do not want to limit our thinking to "Japan is a peaceful and safe country where everyone lives in comfort."
We seek to be considerate and aware of the tragedies that appear day-after-day on the news.
When people read on the news that a "bombing has occurred, resulting in multiple casualties", what do they think? Unfortunately, a considerate portion of the public pay no attention to it, treating it as trivial information and proceed to return to their daily lives.
When enquired, such people would state that "it took place outside of Japan", "these people have nothing to do with us", or "these things happen on a daily basis anyway".
Even if such an event were to cause a ripple in a person's heart, they would think that "I cannot do anything by myself".
With that being said, can we confidently say that "we live a happy and productive life?"
"The world is looking at numerous deaths as if it's a natural phenomenon". These words were stated in a movie that recorded the memory of the people whose liberty was deprived in Syria under the Assad regime.
Indifference is killing people. Physically and mentally.
○  Role & Interest:
Evil by the name of indifference. Giving attention to "this person" in front of me
The internet is overflowing with information, but we tend to pick up only the information that interests us. With the advancement of A.I. and its associated algorithms, the information we are exposed to becomes biased and disproportionate more than ever.
"Knowing, but choosing to do nothing" or "trying to avoid knowing" tends to have no impact on the world. However, when omission and indifference are bundled together, they have a large negative impact on the world.
The government of Iraq attacked the Halabja area with poison gas, a cruel chemical weapon, on 16 March 1988 in the Iran-Iraq War, leading to a death toll of over 5,000. The rationale for this gruesome attack was the citizen's "cooperation with the enemy country, Iran".
It is worth noting that most of the citizens murdered by this attack were of the Kurdish ethnic group.
At about the same time, a conflict took place between the Palestinians and the Israeli Security Forces, which led to the death of one individual. The media covered this conflict in great depth, followed by several large public protests.
On the other hand, the Halabja tragedy was met with absolute silence. In fact, the Islamic Summit that took place several days later did not even include this issue in its agenda.
Despite being one of the worst crimes in history, the international community did not protest as the interest of western countries were aligned with the Iraqi government at the time.
This gave way to an unfortunate precedent for Saddam Hussain, which was that the "use of chemical weapons against the Kurds, who are minorities in the country, would not be criticized".
This unfortunate outcome was due to the combination of omission and indifference by the international community.
This gives rise to the question: how many Japanese citizens are aware of the fact that people were killed by chemical weapons of their own country?
Japan is a country that suffered greatly from nuclear bombs in the past and therefore should heavily criticize any country that uses such weapons. It should declare solidarity and assist where possible.
While it is true that there are too many problems in the world and that the power of each one of us is not significant enough to confront all of the problems, we believe in the idea of a "role" of sharing and giving back, as elaborated below.
Many of us have intimate feelings towards our family. As we grow, we build various human relationships, but we ultimately remain fond or our family relations.
It is a natural emotion to wish for family members to be happy, and if my family is suffering from something, I would like to get rid of that suffering as soon as possible and address anything that hinders my family's well-being together.
In recent years, nationalism has been emerging again all over the world. Despite this unfortunate trend, we should not forget our mission, communicated to us through our Japanese heritage, which is to "think of people all over the world as family and continue to wish for permanent peace".
Do not build walls separating us. We seek to give something back to the world, especially to those suffering, in line with our Japanese spirit and heritage.
If we think of the term world, we think of it as a concept. However, the world is an aggregation of persons. Persons are individuals that desire to know. Once this desire is fulfilled, they seek to take action about what they know.
This person in front of me, in this world, lives a life in which their freedom and equality is deprived. Now that I know about this this suffering, I seek to take action by longing for their freedom and equality; by showing solidarity and refusing to ignore their existence and their problems.
I believe that this is our role. A simple act of kindness can become a light of hope to someone. One small action can bring back someone from the depths of despair.
The accumulation of such small actions certainly have the power to change the world. As a person in this world, don't you think so?
○  Future:
The spirit we inherited and the future we want to leave for the next generation
Since human beings were born, innumerable choices have been made to have the world in its current state.
While exchanging values and growing as a human race, we have lost certain values in the process.
Now, we are concerned about the future of Japan.
Following World War II, the citizens of Japan have been constrained by a constitution determined by another country, with its education also being influenced in the same manner.
The pride of being Japanese has been lost.
It has long been said that Japan's presence in the world is declining. This is a fact we have to accept. If the current situation continues as it is, it will only be a matter of time before Japan is no longer paid attention to in the international community. Japan would only be remembered as a former economic power and a country that has lost its pride.
What would happen if Japan were to disappear? What would happen to the Japanese language and to the Japanese mindset?
We believe that it would be a big loss for mankind.
The Japanese mindset, known for its diligence, for its harmony, for its self-sacrifice spirit and for its sincere intentions to never betray other's trust can be sometimes disadvantageous in this rapidly changing world.
However, these characteristics are what defines the beauty of the Japanese mindset. We believe that we have a role that works hand-in-hand with these characteristics.
On 17 August 1945, Indonesia declared independence after about 340 years of rule by the Netherlands and after three years of governance by Japan. Shortly afterwards, the Netherlands attacked Indonesia to colonize again.
At this time, about 3,000 Japanese soldiers stayed in Indonesia, fought against the Dutch army, eventually the Netherlands decided to give up re-colonization due to a decision of the UN Security Council in August 1947. About a 1,000 Japanese soldiers lost their lives in this war.
Even during the three-year governance era, Japan assigned Indonesians to administrative organizations, put efforts into education, and built a scheme to secure its national strength.
The logic followed by Japan in this era was "do not just scream out for independence. There is no way to realize independence other than to work diligently".
In other words, Japan governed Indonesia primarily not to rule but to release them from the Dutch rule and to support their independence.
We are not in a position to judge the series of military actions taken by the Japanese army, but we think that the Japanese spirit appeared clearly in this case.
We live with the history and spirit of our Japanese ancestors. Our history is a reflection of who we are today.
As our predecessors did, we also have a mission to leave a better future to the next generation. This is the purpose behind our business.
As a Japanese who "thinks of people all over the world as a family and wishes for permanent peace", we will fulfill our own role, raise issues, evoke people's interests, and trigger action as much as possible.
And we will change indifference to interest, so that each person involved finds their role and takes action.
We would like to fulfill the mission of solving myriads of problems in our current generation as much as possible and making the world a better place than we found it, so that we can happily hand it over to the next generation.
About Chapter Two LLC
Ueda Hiroaki
– Date of Birth: 29th, Nov. 1982
– Hometown: Toyama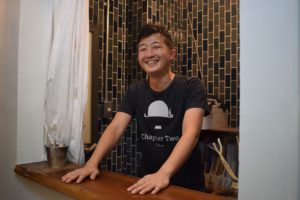 Inspired by a coincidental meeting with a Korean exchange student, I was led to my first backpacking journey to Thailand in 2002 while pursuing my undergraduate degree.
During this backpacking journey, I met people from all over the world and through sharing this life experience with them, I began to question and ask myself many things.
I started thinking about my own identity and what I was living for. What I would experience in this time period and what could I do to change the course of my life from there on.
I proceeded to continue my studies abroad in both Canada and Korea for two years, during which I got to know and take interest in cultures and languages that I had never grown up with.
I have been to more than 30 countries throughout Asia, North America, Europe, and African since my first backpacking trip and have learned that there is really no border among us.
Nationality, religion, and language do not separate us. We are all people of this world.
After settling again back in Japan, I have worked for 5 years as a sales representative and another 5 as a hostel manager, welcoming many guests from all over the world. These experiences have led me to establish Chapter Two LLC, together with Erika.
At our hostel, Chapter Two, we intend to create a place that values personal relationships, feelings of gratitude, willingness to work for the happiness of all that come our way, and to contribute to making a special place that can be an example to the children of the future.
Ueda Erika
– Date of Birth: 28th, Dec. 1983
– Hometown: Hyogo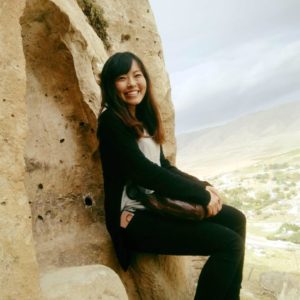 I was born on a the small island called "Ieshima" in Hyogo prefecture. Majoring in Philosophy at university, I took a particular interest in the study of happiness.
I would ultimately come to realize that what leads me to my own happiness is getting to know and help others. These experiences with people of all colors and values would help me to have a mutual understanding and respect for people.
After graduating university, I worked at a hotel, where I met many guests traveling from all over the world. During my tenure at the hotel, I met by chance the President of a famous hostel company in Japan, which later inspired me to take interest in the function and business of hostels.
This was the first time I came to understand the values of what makes a hostel different from a hotel. My desire to know and help others would be fulfilled by the provision of hostel services. On this basis, I made a career change from serving at a hotel to this newfound love of serving at a hostel.
Every day, I felt the direct contribution I made by connecting people from all over the world during their stay in Japan.
With this career change as a start, I began to travel to other countries proactively. I began to feel an excitement from learning different cultures, from food to architecture, that one can only feel by traveling. However, the most memorable and unforgettable memories were the direct exchanges of laughter and stories I had with the locals on these trips.
During all these travels, hostels abroad helped facilitate these wonderful experiences for me as a traveler.
Hiroaki and I got married in 2015, and in the following year, during our honeymoon, we took part in the "Marathon des Sables" (Sahara Desert Marathon) race, which is considered to be one of the most difficult marathons to compete in in the world.
By completing this 257km marathon together, we were able to overcome a certain type of difficulty that gave rise to more confidence than ever. It allowed us to think thoroughly about how we would like to live out the rest of our lives from there on.
In the following year of 2017, we decided to establish this hostel, Chapter Two LLC, based on all that we have experienced. We are incredibly pleased to have this special place where many people can experience a wonderful time during travel in Tokyo and in Japan.