Making new friends while traveling often leads to one's curiosity of these new friend's background and where they come from.
At Chapter Two, we wanted to create this kind of place where guests can become curious of each other's interests and backgrounds and easily become friends with each other.
Company Information
– Chapter Two LLC
– Established in Oct. 2017
– Address: 2-1-6, Kaminarimon, Taito, Tokyo, Japan, 111-0034
– Phone: +81 (3) 6802-7552
– CEO: Hiroaki Ueda
About Chapter Two LLC
Ueda Hiroaki
– Date of Birth: 29th, Nov. 1982
– Hometown: Toyama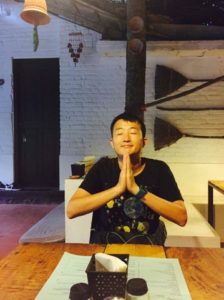 Inspired by a chance-meeting with a Korean exchange student led me to my first backpacking journey to Thailand in year 2002 while I was in University. While on this backpacking journey, I would meet people from all over the world and through sharing a life experience with them, I began to question and ask myself many things. I started thinking about my own identity and what I was living for. What I would experience in this time period would change the course of my life from then on.
I have studied abroad in Canada and in Korea for two years getting to know and take interest in cultures and languages that I had never grown up with. I have been to more than 30 countries throughout Asia, North America, Europe, and African since my first backpacking trip and have learned that there is really no border among us. Nationality, religion, and language do not separate us. We are all people.
After settling again back in Japan, I have worked for 5 years as a sales representative and another 5 as a hostel manager welcoming many guests from all over the world. These experiences have led me to establish Chapter Two LLC. together with Erika.
At our Hostel Chapter Two, we intend to create a place that values personal relationships among each other in our company, feelings of gratitude to one another, to work for the happiness of all that come our way, and to contribute to making a special place that can be an example to the children of the future.
Ueda Erika
– Date of Birth: 28th, Dec. 1983
– Hometown: Hyogo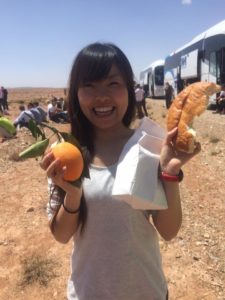 I was born on a the small island called "Ieshima" in Hyogo prefecture. Majoring in Philosophy at University, I took a particular interest in the study of happiness. I would ultimately come to realize that what leads me to my own happiness is getting to know and help others. These experiences with people of all colors and values would help me to have a mutual understanding and respect for people.
After graduating University, I worked at a Hotel where I would meet many guests traveling from all over. Here, I would approach guests under the mission to serve them well. During my tenure at the Hotel, a chance-meeting with a President of a famous Hostel Company in Japan would inspire me to take interest in the function and business of a Hostel. This would be the first time in which I would come to understand the values of what makes a hostel different from a hotel as an operation. My interests in serving my own happiness for others would be fulfilled by connecting what I had felt with the values of providing a Hostel for others and made a career change from serving at a hotel to this newfound love. Everyday I would feel the direct contribution I would make by connecting people with people from all over the world in serving for their stay in Japan.
With this career change as a start, I began to travel to other countries proactively. I would certainly feel an excitement from all the different cultures and its sense of place that I would experience, from food to architecture that one can only feel by traveling, but the most memorable and unforgettable things would be the direct exchanges of laughter and stories I would have with the local people on these trips. All during these travels, hostels have helped me to have these wonderful experiences as a traveler.
Hiroaki and I got married in 2015, and in the following year for our honeymoon, we took part in the "Marathon des Sables (Sahara Desert Marathon) race, which is considered one of the most difficult marathons to compete in in the world. By completing this 257km marathon together, we were able to overcome a kind of difficulty that gave us more confidence than ever. It allowed us to think thoroughly how we'd like to live out the rest of our lives from then on.
In the following year of 2017, we decided to establish this Hostel Chapter Two LLC from all that we have experienced and are happy to serve the kind of special place where many people can experience a wonderful time for their own happiness during travel as well.